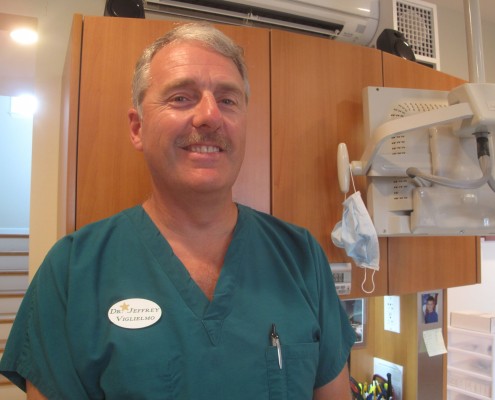 Jeffrey Scott Viglielmo, DDS, AIAOMT
Hello, my name is Jeffrey Scott Viglielmo, and I am a life-long resident of Ulster County. I did go away for my higher education but have been lucky to be able to return to the area that I love. I graduated from Onteora High School in 1977, received my BS from St. Lawrence University in 1981 with a double major in Biology and Chemistry while also being invited into the Math Honorary. Georgetown University Dental School in Washington, DC provided me with my DDS degree and there I also met my wife, Maureen.
We live in Woodstock where we are raising our 2 children, Kaitlana, age 18 and Kealey, age 19.  I have volunteered my dental expertise to the Ulster County Community Action Committee by sitting on their advisory board for the county's Headstart program. I have often provided their children with dental screenings over these past 20 years and in recent years, adopted a child from this program to provide their dental needs that they are unable to receive elsewhere, at our cost.
In 2001, I joined the International Academy of Oral Medicine and Toxicology.  In 2006, I was accredited by the IAOMT for showing the interest and skills to treat my patients in a biologic sense: understanding dental materials biocompatibility and the periodontal disease process as well as using the safest protocols for removal of mercury. This is a toxin which makes up over 50% of the "silver" fillings that many of us had or still have.
I am excited and very passionate about the opportunity we have to help our patients with their overall health. Since your oral health is both a window into and a direct link to your system's health and well-being, it is important to have as healthy a mouth as possible. I believe we have a huge responsibility to do the most we can for you as a patient. We will provide guidance based on the large volume of health information available and will make recommendations to maximize your comfort, dental stability, overall health as well as looks.
"The beautiful smile that we create with you is the gateway to a healthy body."
At home, I have given my time to the Hunter Mountain Race Foundation which gets me outdoors running alpine ski races as Chief of Race, timer, official and course worker. It has been a great experience meeting the world's best American racers at our NORAM events; even Bode Miller was a participant in 2002 on our Catskill Mountain hill. During the 2008-9 season, I coached the U-16 Alpine Competition Team where I was able to ski with and coach my son and enjoy the sport with him. I am again at Hunter this winter, 2015-16.
I am currently in my 5th year as a member of the Comeau Stewardship Advisory Committee which has been asked to provide guidance to the town of Woodstock. I am currently very involved with soccer, acting as AYSO Region 732 Assistant Commissioner where I coach and referee. I feel that I have been a guiding force in my children's and their friend's athletic development. I am now the Woodstock Soccer U-5 head coach and have been engaged with 20 plus children during the spring and fall seasons. I even took on the Onteora Boy's Modified Soccer coaching duties for the fall of 2008. It has been a lot of fun to see the children as they enjoy their outdoor athletic training and competitions. Personally, I still ski race and play soccer myself as well as tennis, windsurfing, paddle boarding, bicycling, hiking, backpacking and gardening.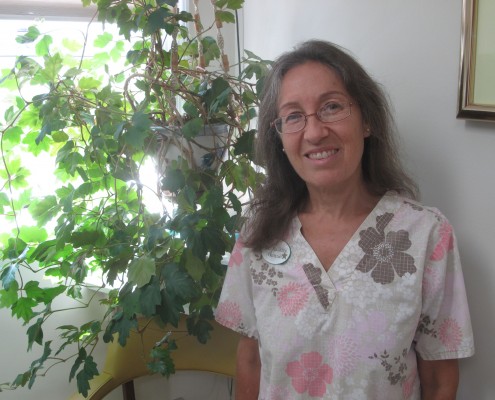 Maureen Kelly Viglielmo, MS, DDS
The Hudson Valley has been my home since 1986, when I married Dr. Jeff Viglielmo. We met while in dental school and shared many of the same passions, including skiing and a love of the outdoors. We raised our son and daughter in this beautiful place on the globe and they loved growing up in the Catskills!
Originally, I am from the Boston area.  I did my undergraduate work at Bates College in Maine and the University of Glasgow in Scotland. Then I traveled to Washington, DC where I attended Georgetown University Graduate School and earned my Masters Degree in Physiology and later, my Doctorate of Dental Surgery from Georgetown University School of Dentistry.
Dentistry has been a means for me to help people with their teeth, oral health and even their feelings around dentistry.  Having had many dental procedures myself, I can relate well to what it's like to be a patient.  In our dental practice, I offer biological approaches to periodontal therapy using our technology, phase contrast microscope, irrigation systems and solutions, and customized nutritional support.  I'm happy to represent a practice that is so caring for people, has standards of excellence that it is always striving to meet and is at the forefront of using the safest, most biocompatible dental materials and techniques possible.
In 2014, I began my own company, Harmony Nutrition, Inc. doing Nutrition Response Testing to help people improve their health naturally in a non-surgical, non-pharmacological manner. This is a non-invasive technique which is based on kinesiology and the Ulan Nutrition Systems.  I have been receiving training in this approach for the past few years: from basics, to intermediate, to levels 1-3 of advanced training.  As I build my nutrition practice, I will be continuing my advanced training in Nutrition Response Testing.
Helping people with their health has been a lifelong passion of mine, beginning in my early teens when I was a Junior National Ski Patroller.  I am happy and excited to be helping people with both their nutritional health and periodontal health.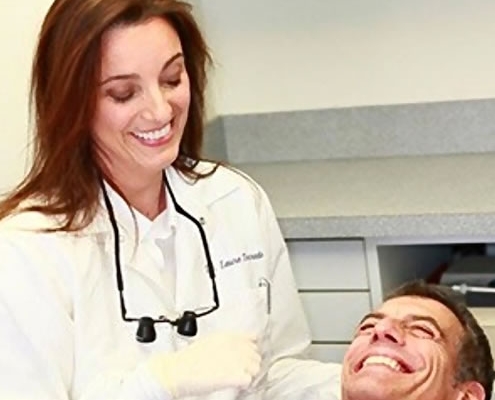 Dr. Laura Torrado
Dr. Laura Torrado specializes in designing beautiful smiles with veneers or the appropriate type of restoration needed, combining function, longevity and facial aesthetics. She graduated from NYU College of Dentistry in 1989. Her previous studies include a bachelors of science and a doctor of odontology degree in Uruguay. She has continued her post-graduate studies in full mouth rehabilitation and fixed and removable prosthetics at NYU.
At Buffalo State University, she completed the advanced program in esthetic dentistry and is an avid participant in numerous continuing education courses both nationally and internationally.
Dr. Torrado is a Pankey scholar and a graduate of the Kois Dental Center in Seattle whose curriculum includes 9 courses with the latest advances in aesthetics, implants, and restorative dentistry. In 2004, she completed her certification in Invisalign Technologies, and in 2005, she received her fellowship from the Academy of General Dentistry.
In 2015, Dr. Torrado completed her Dental Sleep Medicine Residency at Tufts University School of Dental Medicine.
Sleep Medicine and Facial Esthetics are part of her practice as well as TMD therapy and treatment of Bruxism.
Additionally, Dr. Torrado completed 25 hours advanced training between 2015 and 2017 to earn a designation as a qualified sleep dentist from the American Academy of Dental Sleep Medicine. This designation gives further credence to Dr. Torrado's skills a sleep dentist.
In February 2017, Dr. Torrado completed a TMD residency at TUFTS University and in April 2017, Dr. Torrado completed a residency in cranio facial pain with the AACP.
American Dental Association
Academy of General Dentistry
American Academy of Cosmetic Dentistry
American Academy of Women Dentists
American Academy of Facial Esthetics
Academy for Sports Dentistry
American Academy of Dental Sleep Medicine
American Academy of Facial Orthodontics
Academy of Laser Dentistry
American Academy of Craniofacial Pain
American College for Advancement of Medicine
American Academy of Cosmetic Orthodontics
Academy of Applied Myofunctional Sciences
Academy of Bioesthetic Dentistry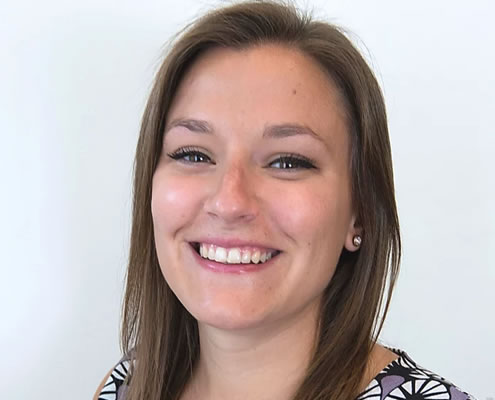 Dr. Dianna Cortese
Dr. Dianna Cortese is a board-certified dentist with a focus on biological/holisitic dentistry. She understands the oral-systemic connection and has a preventative-oriented approach to dentistry. Dr. Cortese graduated from NYU College of Dentistry with honors in Oral Pathology and Medicine and was the recipient of American Academy of Oral Medicine Award. She completed her general practice residency at New York Presbyterian Brooklyn Methodist Hospital and has experience in dental oncology. Dr. Cortese is also a certified Holistic Cancer Coach and understands the importance of nutrition and the mind-body connection to overall health.
Dr. Cortese is a dedicated IAOMT member (International Academy of Oral Medicine and Toxicology). She received her SMART (Safe Mercury Amalgam Removal Technique) certification and is also a member of the science committee that reviews the most recent literature in holistic dentistry. As a "Healthy Start" dentist, she works with children to promote proper growth and development of the jaw and airway with a focus on sleep-disordered breathing. Even though Dr. Cortese was born and raised in Brooklyn, she loves Upstate NY. She went to college at UAlbany and loves spending time outdoors and in nature.