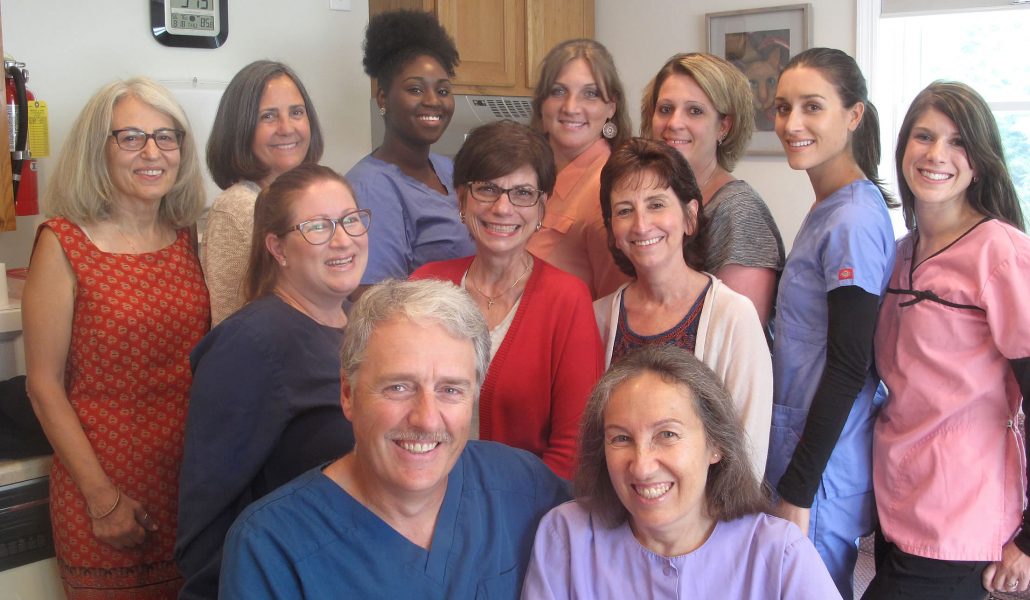 Front: Dr. Jeffrey | Dr. Maureen
Middle:  Jennifer | Stephanie | Lynn
Back: Katherine | Susan | Amanda | Heather | Michelle | Nicole | Carolyn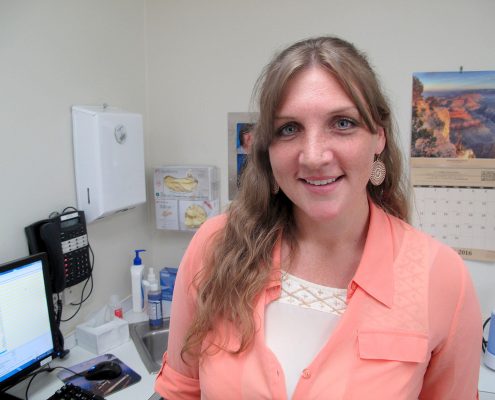 Heather Dammer
I am married to an amazing man, Nate and we have a son, Austin, who, in my opinion is the most tender-hearted, athletic, little academic that I know! They are my world and I love to spend quality time with them doing things outside, playing board games or anything else that brings us together as a family. My other love is my pit bull, Summit.
I started in the dental field in 2005. I have been a part of this Dental Team since the end of 2012. I am the clinical assistant here and I really enjoy spending time with the patients and building relationships with them. I also really like educating patients on their dental health. I love being a part of this practice and enjoy coming to work every day and working with the dentists and staff here.
Outside of work, I enjoy serving God whether at my church or out in the community. I also like to hunt, fish, shoot and explore the great outdoors. I am an avid backpacker and am an aspiring Adirondack 46-er; I am on a quest to accomplish all 46 high peaks in the Adirondack Mountain Range. And when I am not outside, I am probably singing!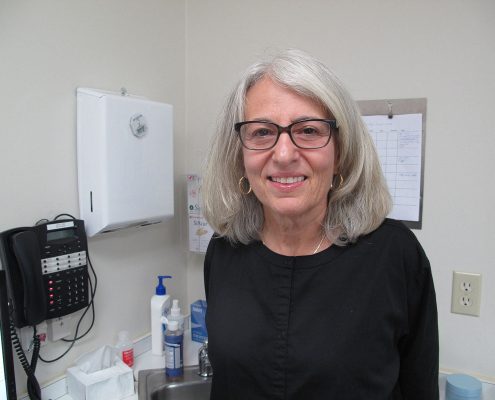 Katherine Risio-Smith
As a person who enjoys nature, I like to walk or ride my bike and admire the beautiful scenery we are blessed with in the Hudson Valley.  I also like to grow vegetables and experiment with different fresh herbs and recipes.  Sometimes it is challenging having an organic garden but definitely worth the benefits.
I am proud to be part of such an amazing dental team and practice.  In this age of toxicity, it is a comfort to know that by using safe mercury removal protocols our patients and employees are protected from harmful mercury vapors.  I leave work feeling that if I was able in some small way to help a patient, it was a good day!
I know first hand about sensitivities and special needs, so it would be my pleasure as a clinical assistant to make sure your experience with us is comfortable and answer any questions you might have.  I am a Certified Dental Assistant and have an Associates Degree.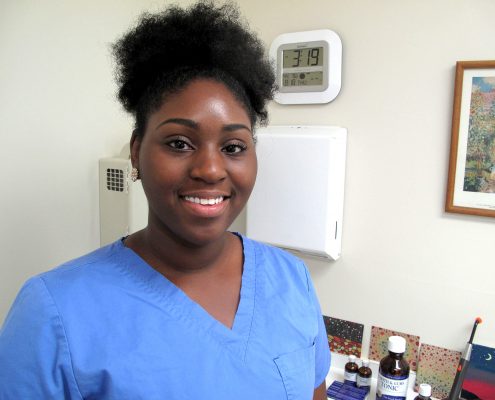 Amanda Bartley
My name is Amanda and I am one of the dental assistants here. I began dental assisting in 2010 with the hope of becoming a Dentist in the future. I graduated from Kingston High School in 2011 and knew that I wanted to be in the dental field since my freshman year there. From there I went on and completed my Bachelors in Biology at SUNY Purchase in 2015. Now I live in Kingston, NY with my father where we own a small Caribbean restaurant.
In my spare time, I enjoy spending time with my family. I am always open to trying new things and expanding my day to day knowledge.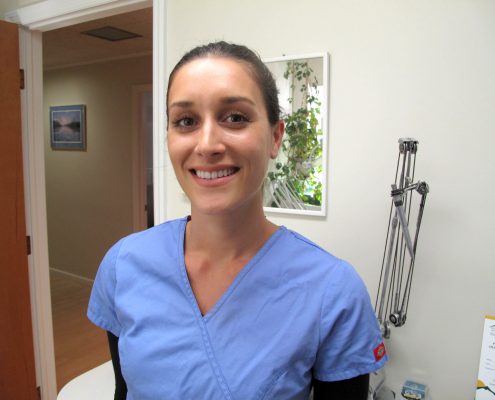 Nicole Raymond
I grew up in Saugerties, NY and have been working as a Registered Dental Hygienist since 2011.
I have spent the past three years living in Charleston, SC practicing dental hygiene.  The beach was beautiful, but ultimately the mountains called my husband and me back to NY.  I have always had a deep interest in healthcare, but dentistry, specifically, has intrigued me the most.
My favorite aspect of dentistry is knowing that I am helping people live healthier lives.  I look forward to getting to know my patients on a personal level and helping them to attain that goal.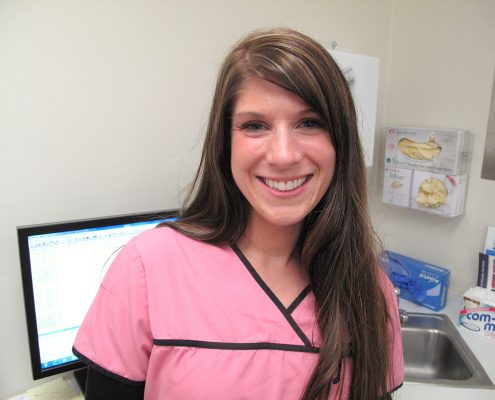 Carolyn Walter
I just moved to the Hudson Valley area with my fiancé (who took a job as a football coach at Marist College) and our two dogs.
I've had over a decade of dental experience with 7+ years working as a hygienist in both a pediatric and general practice setting in New Hampshire.
I've worked for the past two years as a flight attendant and love to travel/explore new places. But I'm excited to return to hygiene and get back to a lifestyle of health and wellness. Fitness is one of my passions and I love to share that with my patients and coworkers. I enjoy weightlifting, running, skiing, any outdoor adventures.
I'm looking forward to meetings all my patients and establishing some roots in this beautiful area.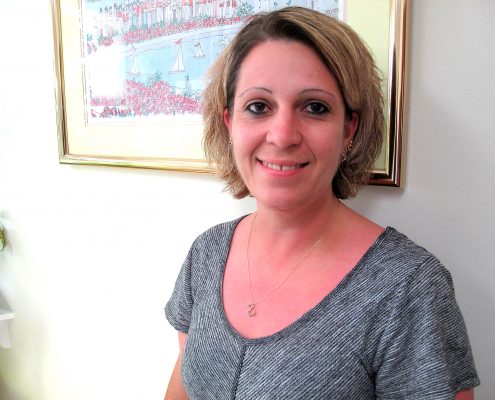 Michelle Sickler
I'm Michelle, your hygiene assistant. I've been working in the dental field since 2005 and have been working with Drs. Jeff and Maureen since 2009.
One of my many duties here is to assist in the hygiene- patient experience. I very much enjoy the interaction between myself and the patient. I am also the dental products purchaser, frequently meeting with our dental reps to insure that we have the most recent and up-to-date products and materials available.
I grew up locally in the Hudson Valley, am a married mother of four grown children. I'll be happy to make your dental visit a pleasurable one.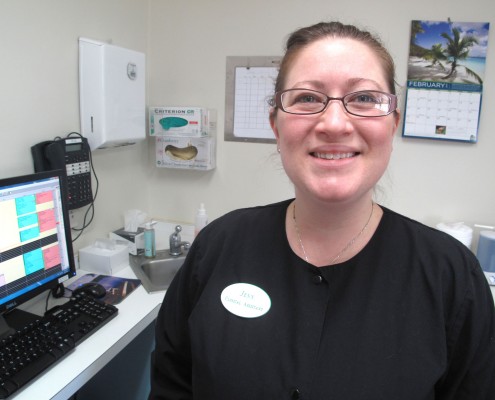 Jenn Cerillo
I have been a dental assistant since 1999. I hold my national certification in dental assisting through DANB with a NYS expanded duties license. I attended the BOCES dental assistant course in 2005 and continually take courses to better my knowledge in the field. I am very interested in the use of technology in dental treatment and am excited to be using the iTero digital scanner instead of using traditional impression materials for our restorative work and Invisalign orthodontic cases here at Dr. Viglielmo's.
I moved to NY from Connecticut in 2001 to be with my husband. We have a dog and a beautiful little girl and live in Saugerties. We love vacationing at Walt Disney World in Orlando. I love to cook and come up with my own creative twists on recipes I've seen on cooking shows or dishes I've eaten in restaurants.
What I enjoy most about working as a dental assistant is helping the fearful patient take control of his/her dental health as well as seeing the final result of a major dental reconstruction. My goal for the future would be to educate more dental assistants to continue along this fulfilling career path.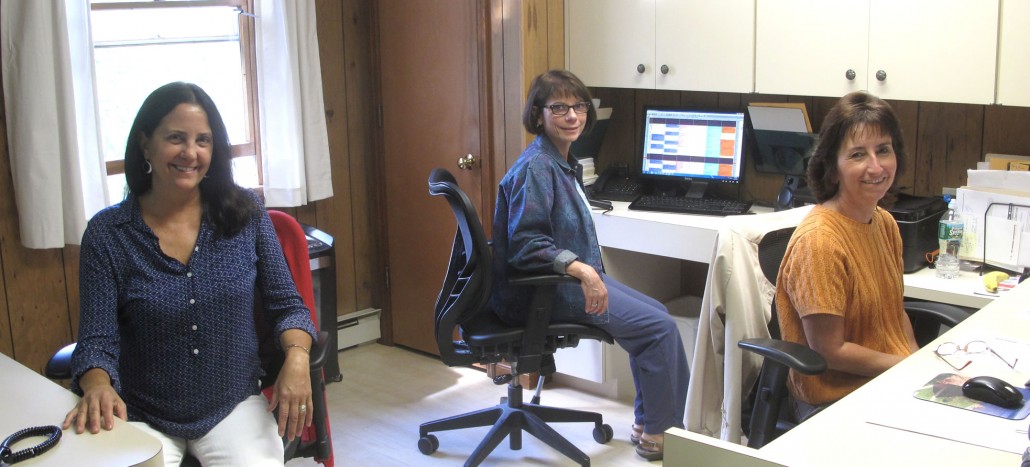 Office
Susan | Stephanie | Lynn
Susan
I'm Susan, your treatment coordinator. I began my work in the dental field 26 years ago as a dental assistant and then went on to manage the front desk, which included scheduling, treatment planning, handling insurance, and a multitude of other tasks to ensure a smooth-running office. I still continue to find great enjoyment and reward in my work, while developing wonderful interpersonal relationships with the patients as well as coworkers. I am happy to share Drs. Jeff and Maureen's unique vision in this specialized practice, and am grateful to be able to work alongside of them. The Hudson Valley has been my home since 1978. I am a married mother of four grown children with 5  beloved grandchildren. As your treatment coordinator, I will explain your necessary treatment to you, go over financial options, and plan a course to maximize your insurance coverage so you can achieve your dental goals.
Stephanie
Having a business and insurance background, I've enjoyed my position as Financial Coordinator for the practice. I enjoy helping our patients understand their dental insurance and work to get them the best benefits possible. It's been fun learning and working within our team, always something new happening here.    I am a proud mother of two grown children. My son will be married this October to his long-time sweetheart.  My daughter will be starting college this fall. One of my favorite things in the world is cooking and sharing a meal with my kids… talk about life's simple pleasures.
Lynn
I am Lynn, your Scheduling Coordinator and Digital Information Specialist. I have been working alongside  of Drs. Jeff and Maureen since 2010 and was involved in the medical profession for approx. 15 years previously. Although my many functions at our office can be quite technical and satisfying, I consider my greatest rewards to be the relationships that I have been privileged to form with so many of our patients. I completely enjoy getting to know each and every one. I consider myself lucky to be not only part of a dental practice but a dental family. Along with the many hats I wear throughout my day I will always put the needs of our patients to the forefront of my daily routine. I have lived in the Hudson Valley for 25 years and am now enjoying my four grown children. I am waiting for the grandchildren! Patiently I might add!  I look forward to a long lasting relationship and doing my very best to help you maintain your maximum oral health.